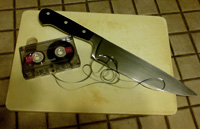 i've just stumbled across the
audio cookbook
which according to their site is:
a non-profit resource for music and sound enthusiasts made possible by contributions from Unearthed Music. The content has a slant toward the avant-garde or experimental side of audio production. Whether you have years of technical experience or you are just getting your feet wet doing sound design, you'll find unique, interesting and useful information that might inspire you, give you an idea, or simply entertain.
Features

* One Sound Every Day is a new category where AudioCookbook.org founder John Keston creates and posts a new sound every day with a description of how it was produced.
* Posts under the Sound Design category describe techniques you can use to create unique sounds for your productions.
* The Foley category has posts that outline strange, unique, bizzarre, or just plain effective techniques to generate foley.
* Audio News contains stories from our contributors and links to articles outside of AudioCookbook.org that are of interest to sound designers and audio engineers.
* The Contributors page has brief bios of the audio professionals who are providing the content.
* Visit the Participate page if you are an audio professional interested in contributing to the content of our site.
* An integrated media plugin routes audio or video files directly into a player within posts so users can easily listen or view the examples while reading the articles.

worth checking out on a regular basis as they post lots of examples of interesting sounds and explain how they were created.