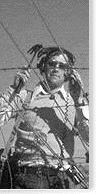 unidentified sound object
posts a video interview with Ben Burtt discussing the Wall-E film.
This is a little different from the usual interviews in that they didn't focus entirely on the cute little robot sounds. Instead Burtt discusses the advantages of working on the project from the very start and how he was able to create little sound experiments of how he thought the character might sound. He would pass these recordings to the animators who would create short sequences to using his soundtracks. The cross-collaboration between the 2 departments really helped to develop and refine the character of Wall-E.
He touches on the amount of sound effects that needed to be produced on this film (over 2,600!) due to the fact that it is an animation and so everything in the film needed to have a sound created for it.
He goes onto explain how he finds himself recording "interesting" sounds from every day life as he walks around (he calls it "collecting"), even whilst he's on holiday. He recalls taking his daughter shopping so he could get away with recording the sound of shopping trolleys crashing into things.
He finishes up reminiscing about some of his favourite characters from the films he's worked on. Obviously he mentions R2-D2 and the difficulties he had in fabricating a personality for the little robot through the use of sound. He suggests that sound designers really enjoy working on some of the minor characters in films as it allows them "invent" personalities and show off a little bit with sound.